SBM GRIEF SUPPORT GROUP
This group will provide a safe space for people who have lost their loved ones to cancer. Join us as we support each other and discuss some of the ways the loss of someone significant can affect our lives. The purpose of this group is to provide information about the grief process; to share experiences, and to alleviate the feeling of isolation. Please join us for this unique and healing one-hour bi-weekly meeting, together we can find understanding and hope which eases pain.
"The only way to get to the other side is to go through the door." ~Helen Keller
*This group will take place every other Monday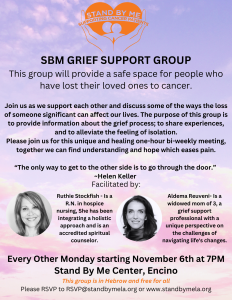 Event Seats
Total Space : 10
Available Space : 10
Reserved Space : 0


Do you already have an account with us?

Sign In

Log in if you already have an account with us.