Introducing our new community group: Stand By Me: Supporting the Supporters
Welcome to "Stand By Me: Supporters of the Supporters," a dedicated and nurturing group that recognizes the invaluable role of caregivers and volunteers who tirelessly provide care and support to cancer patients and their loved ones. We understand the unique challenges and emotional demands faced by these compassionate individuals, and we strive to create a safe and empowering space where they can find strength, and guidance. Through regular monthly meetings, support sessions, educational workshops, and tailored resources, Stand By Me offers a supportive community built on empathy, understanding, and resilience. Together, we celebrate the selflessness of caregivers and volunteers, providing opportunities for personal rejuvenation, relaxation techniques, and self-care practices. Join us on this transformative journey of support, where we stand together, side by side, in solidarity with  our volunteers and caregivers who make an indelible impact on the lives of cancer patients and their families in our community.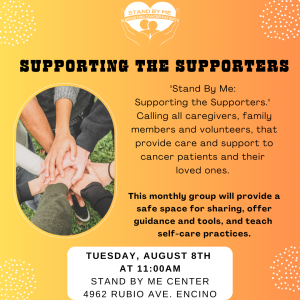 Event Seats
Total Space : 15
Available Space : 15
Reserved Space : 0


Do you already have an account with us?

Sign In

Log in if you already have an account with us.